FREE ENTRY ROLLER DISCO PASS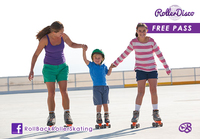 And Why Not?
It's back.... b'cos its Nice to be Nice!
** FREE ENTRY ROLLER DISCO **
That's right its our Like and Share 'Free Entry' Giveaway!
You can win FREE Entry for a group of four (4) to any of our Roller Discos on Saturday February 13th or Sunday 14th 2016.
Put your preferred venue in the box; (Barnfield, Pilgrim or Bunyan).
Simply add your name and email to the form below.
Please view full Terms & Conditions before entering.
Like & Share this post as many times as you like.
A winner will be chosen at random on Friday 12th February 2016 just after 12pm midday!
Check our facebook page to see if you have won as if the prize is not claimed, we'll have to pick someone else.
Good Luck
do-something-different
The ‪#‎Rollback‬ team
Store Location
7 Church Arcade,
Bedford, MK40 1LQ
T: 0300 111 0808
Opening Hours:
Monday to Friday: 10.30am - 5.30pm
Thursdays - LATE: 10.30am - 7pm
Saturdays: 9.30am - 5.30pm
Sundays: 11am - 1.30pm