CASTLE NEWNHAM SCHOOL
Polhill Avenue
Bedford MK41 9DT


Upcoming Activity Camp Dates
Sunday 22nd July - 9am – 4pm - Additional FREE Family FUN day @ Bunyan Sports centre, Bedford, MK42 9TS
Summer Camp: Monday 23rd July - Friday 10th August*
*Does not any Bank holiday's
---
Year Groups
The prices displayed on the website are the EARLY prices, note that these are only available when booking two weeks in advance of an activity start date.
Activity Camps Schedule and Pricing
| | | |
| --- | --- | --- |
| Schedule | Times | Prices per day |
| Standard Day | 09:00 - 17:00 | £25.00 |
| Half Day | 09:00 - 13:00 / 13:00 - 17:00 | £17.00 |
| Extended Day AM | 09:00 - 13:00 | £5.00 |
| Extended Day PM | 17:00 - 18:00 | £5.00 |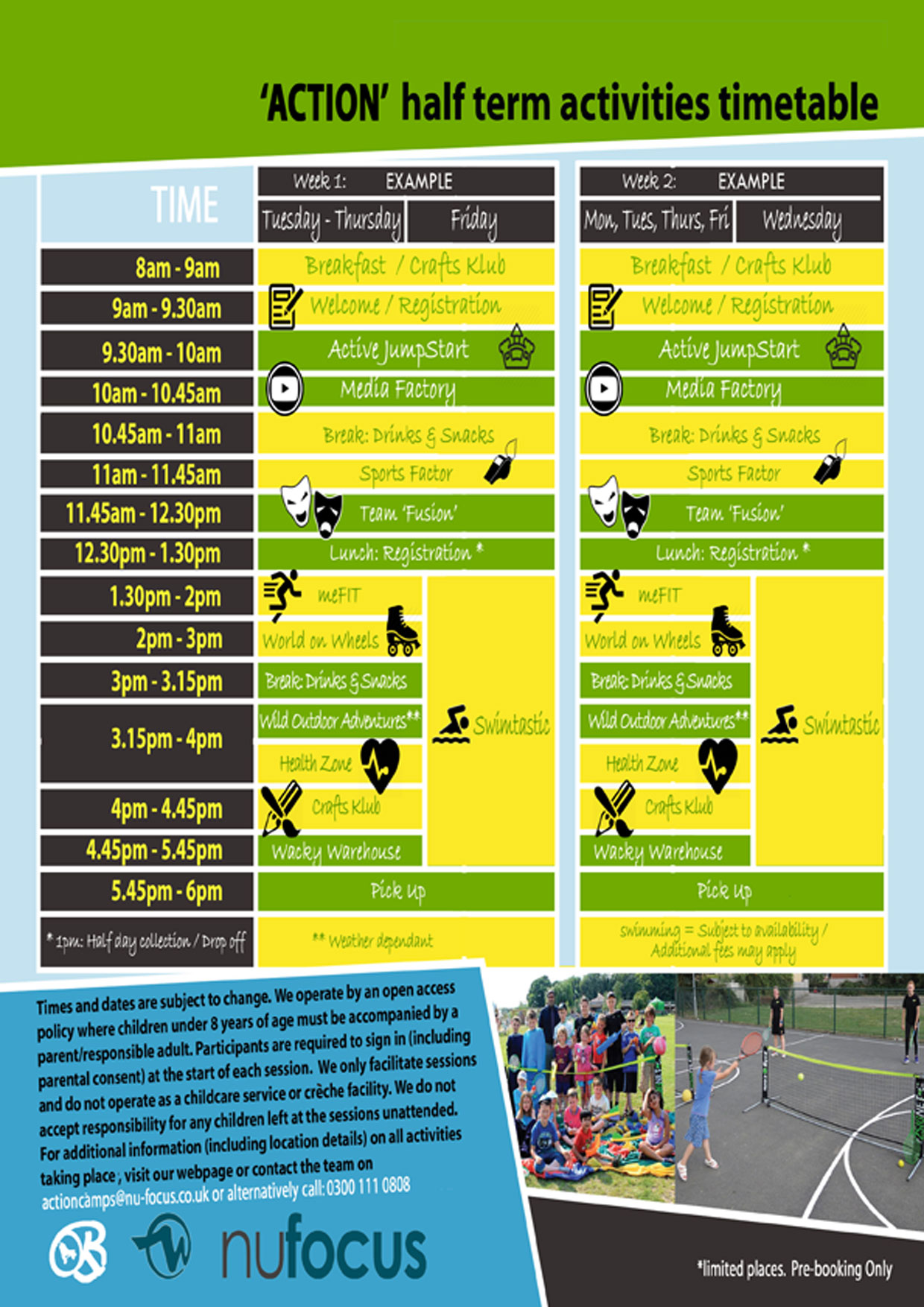 ---
Important information
Please note, you must pre-book your child's place on any activity.
The prices displayed above are the EARLY rates.
From the 22nd June 2018, if you book an activity more than two weeks in advance then you will receive the EARLY rate which is the best rate you can get for that activity.
If you book less than two weeks in advance you will receive the BASIC rate (which is the early rate +10%).
If you book less than 48 hours in advance you will receive the LATE rate (which is the early rate +20%).
This improved pricing structure provides parents/carers with our preferential rates when booked EARLY (2 weeks prior to any activity), ensures consistent prices and reduces the likelihood of disappointment if the activity is full.
To provide parents/carers to familiarise with our new improved booking system up until 3rd April 2017 all bookings receive the EARLY rate regardless of when you book*.
*unless you book less than 48 hours in advance, in which case the LATE rate will apply.
Facilities
Swimming Pool
Sports Hall
Soft Play Area
Outdoor Pitches
Changing Facilities
Toilets
---
What To Bring
RollBack advises children to bring the following:
A healthy packed lunch (nut free) with 2 healthy snacks
A water bottle (we provide extra water)
A swim kit - towel and aids if required
Comfortable & suitable footwear for activities
Wear weather appropriate clothing, i.e. children are encouraged to take part in outdoor activities each day (weather permitting), therefore sunscreen should be applied before camp and we recommend a hat in hot weather. For cold and wet weather, we recommend children to wrap up warm and wear a coat
We do ask that all items are labelled so we can ensure your child goes back home with everything.
Partner
BRUNO'S SOCCER SCHOOL
---
OFSTED: ...pending
---
Terms & Conditions
You can find all the Terms & Conditions applicable to your booking in this document.
---
Merchandising
Why not buy your own RollBack Activity Kit? Help your child to become an Activity Champion with a RollBack T-shirt, Water Bottle, Cap and bag. Simply add it to your booking or contact actioncamps@nu-focus.co.uk and get yours today!
Call Us
You can call us to arrange a booking or with any questions you might have regarding our Activity Camps.
Terms & Conditions
You can find all the Terms & Conditions applicable to your booking in this document.
SUMMER 'ACTION' PROGRAMME
MAKE A DIFFERENCE
'Make A Difference' (M.A.D.) is a project where we provide coaching, workshop activities and equipment to groups and clubs in any given area. We use our mobile skatepark with its collection of ramps and roller sports equipment to setup in pretty much any area with a dry flat surface. We are a non-profit organization that uses roller sports and education for youth empowerment.
Equipment hire is available to groups wishing to run their own sessions. We often run projects where young people can come along and use the equipment absolutely free of charge.
How would you feel if you could;
use the latest equipment?
learn some skills by experience & Pro riders?
Good? ....well, there's more!
Ok, well even if you don't have one, how about having your very own mobile skatepark visit your area?
How would you feel if you could be tomorrow's champion?
How would you feel if you could do a rewarding hobby which will enhance your social skills, as well as keeping you fit, healthy and active?
If the answer to any of the above questions is "YES", then look no further and have a look at our schedule below.
If you don't see that we're a location near to you, then get your council / local authority's Sports Development Department to get in touch with us.
AREA
LOCATION
DATE
TIME

Bedford

Moor Lane

Jubilee Park

TBC

TBC

1pm - 2pm

4pm - 5pm

Luton

Vicarage Road Carpark, Town Centre

Wardown Park

TBC

TBC

1pm - 3pm

5pm - 7pm

Sandy

Sunderland Road
TBC
12pm - 2pm
Activity Camps
Activity Camps are a great way for your child:
To keep active

Have fun

Make new friends

Try something new

Take part in a whole range of activities and sports!
All Fit For Sport staff members are trained, DBS-checked and full of enthusiasm to deliver fun and inclusive activities, to keep children entertained all day.
Extended School Services
Fit For Sport provide before and after school Extended Schools Clubs across the country, offering parents convenient and Ofsted-registered child care.
Summer Fun Day
Related Events