When there's a passion for it! You just keep on Rolling
---
You'll find that Chennai is quite the breeding ground for young talent in sport, whether they're popular or niche. Eighteen-year-old Arun Sathianarayanan, the latest to emerge from that pool, is now in the spotlight after winning the bronze at the 17th Asian Roller Skating Championship in Lishui City (China) last month.
Arun's now-ten-years tryst with roller skating started on foreign soil. "It happened when my parents and I were on vacation in Toronto in 2005. We visited a skating rink in the city, and a few figure skaters really caught my eye. I pestered my parents to buy me a pair of skates, and they agreed," he recalls.
On coming back to Chennai, the then seven-year-old Arun enrolled at a roller skating academy near Marina Beach where he acquired the basic know-hows of the sport. "The rink over there is not that big, but it is quite popular in our city. I spent two months with them."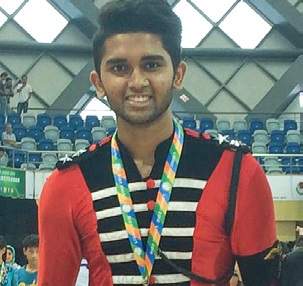 His professional sojourn started after coming under the tutelage of Pavan Kumar Akula. "He's my coach even now. We train in a rink at Shenoy Nagar. He's a really good, experienced coach. He's a national champion himself, not to mention that he's trained a 100-plus skaters," he explains.
In the 10 years between that moment and his recent wins, Arun has built up quite a skating resume for himself. Apart from representing India at 2012, 2013 and 2016 editions of the World Championships (in New Zealand, Taiwan, an Italy, respectively), he also raked in a haul of 31 gold, 34 silver, and nine bronze medals from district, state and national championships.
"I remember the national gold that I won in 2008. It was my first gold and national medal. It's a big motivation for me," he beams. Currently part of the mechanical stream at the SSN College of Engineering, Arun has his hands full with his academics and sports.
"Before college, I used to practice twice a day. Now, I do so only in the evening," he explains. "Plus, since I've missed out on nearly a month-and-a-half of college, I have to spend a bit more time taking re-tests. It may sound hectic, but I feel refreshed after a session on my roller skates. It helps me focus better while studying."