Rollerworld in Colchester has been snapped up by the UK's largest family-run extreme sports company.
---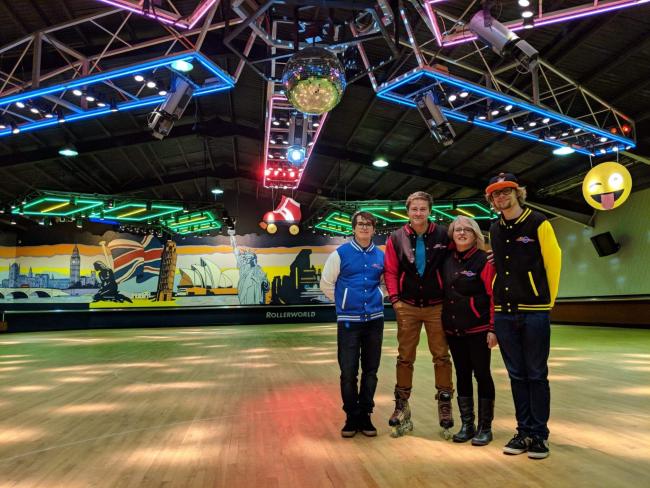 Andy Starr is stepping down from his role as Managing Director of Rollerworld after being in charge for more than 28 years.
Demon Xtreme – the company responsible for bringing the 2017 Ice Slider in Castle park, Colchester – has purchased the roller skating venue, under the helm of Anne and Jason Khan.
The Demon Xtreme sports store will move from its Cowdray Avenue location in Colchester and be incorporated into Rollerworld, as the new owners look to make the venue the principle location for skating sports enthusiasts in the UK.
Mr Starr's ownership of Rollerworld has been endowed with many achievements throughout his tenure, including seven times host of the UK National Artistic Roller Skating Championships and being named this year's World Skating Rink Operator.
He opened the attraction in 1990 and has resisted many previous attempts to buy the venue before approaching Demon Xtreme as part of a thought-out succession plan for the venue's future.
Andy Starr, Managing Director of Rollerworld, said the venue has been part of his "heart and soul for a long time", and he has enjoyed the journey along the way. "It was important to me to see succession take place and the only people I could imagine sharing my vision and future of progression for the venue are Jason and Anne at Demon Xtreme.
"We have been all year in the planning of how this will work, and Jason and Anne's connections within the skating industry will ensure that this much-loved venue is in safe hands and has an exciting future."
Jason Khan, Founder of Demon Xtreme, said he envisages Rollerworld as a "community hub" where extreme sports will thrive. "We have been talking to Rollerworld users for many years and we can bring to reality many of the improvement suggestions. We truly feel there is so much potential within and we want to thank Andy for allowing us the opportunity to take on this iconic Colchester institution after so many years at its helm.
"Our ambition is to see the venue transformed into a more social space, where guests can not only skate but be involved in skate sports or play quasar and also eventually watch performers and international sporting events."
Rollerworld currently boasts an Olympic standard floor, laser tag arena, amusement arcade, cafe and bar and so Jason Khan, founder of Demon Xtreme, said: "We are unbelievably excited and humbled to be taking over as business people, skaters and coaches ourselves and added "Colchester has so much to offer and we see our industry worldwide travelling to use what are very special and unique facilities."
Mr Khan also has plans to improve and revamp Rollerworld for its loyal local customers. "The next year will see the introduction of new mezzanine floor, updated café and food, a more desirable bar area, organised Quasar events tables and tournament nights, plus a hugely expanded arcade area and much more."