---
The RollBack team are delighted to announce that we have been awarded a grant for Bedford Griffins Rink Hockey Club courtesy of the Wixamtree Trust. The award will go towards much needed club kit & equipment after a contrived end to previous kit usage; the new kit will especially cater for our younger 'professionals' who struggle with sizing.
The grant is also part of the club's planned growth and the board unanimously voted in favour of Bedford Griffins aiming to join the Eastern Counties Rink Hockey Association (ECRHA) next season.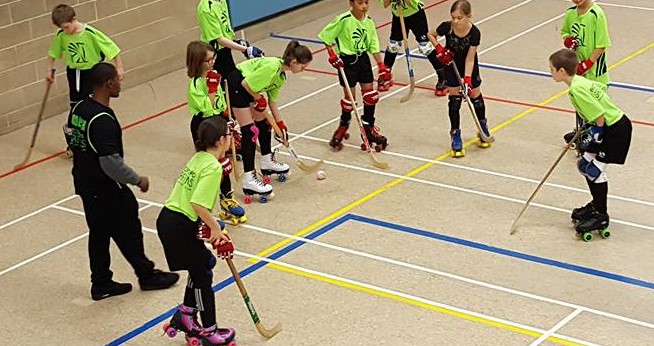 Club chairman, Robert Beckford, said: "We are very pleased that our strategy to join the league is on target and the grant is something we as a board feel strongly will aid our plans.
"Hopefully this isn't the end of the expansion and we are looking forward to having Bedford Grifffins on board for the 2020-21 season."
The management make-up at Bunyan Sports centre has undergone changes and the club will be in talks with the regional business manager-East of Fusion Lifestyle to negotiate ways how the club will partner with the centre to facilitate the step up to competitive play.
"I think the future is very exciting and it is something our young players, the venue, heck Bedford as a whole deserves," Robert said.
"This team should be competing in the league and this is a fantastic opportunity for the club to develop.
"We are gearing up to the move to a competitive level (hopefully) in September and that means we will have to strengthen our off-rink team every bit as much.
"It will be a lot of hard work and everyone on the RollBack team are working their socks off to make it a reality, our aim is to definitely be in it for the long haul rather than a hundred metre dash.
"Having had a closer look, we think we can succeed at that higher level and with the right staff in place we know we'll be giving it a good shot".
---
NEW SPONSORSHIP DEALS
As we drive development of the club forward, we'll be on the look out for new club sponsors who will be able to support our team, many of whom will be first time skaters, officials, coaches & ref's entering competitive game-play in the next few seasons. Please use the email form below to get in touch.
---
DONATIONS
For a list of ways how you can support our club, have a look below and get involved where can;
EBAY Charity Shop: https://www.charity.ebay.co.uk/charity/RollBack-Skating/124273
PayPal Giving: https://www.paypal.com/uk/fundraiser/charity/124273
Localgiving: https://localgiving.org/charity/nufocus/
Indoor Roller Centre: https://ie.gofundme.com/f/indoor-skate-amp-roller-park