Think yourself a pro skater? Do you see yourself in the same league as Tony Hawk? How many tricks do you know? Only one? That won't do... Here is a list of some skateboard skills you have to master to even begin to think you're good.
360: A classic vintage technique, get some air and spin once front or backside.
Ollie: The Ollie is another vintage technique first done in 1977 and has since become a staple. Jump and pop the board at the same time to jump with your board.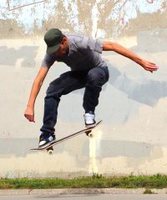 Shuvit: Slightly underrated, the shuvit is when you do a flat spin with your board. This can be done with or without a pop.
Board slide: Also known as the rail slide, this is a basic skateboard grind. Slide using the centre of your board on anything that allows for sliding without breaking your board. Handrails work great.
Nose slide: Essentially a board slide using the front or back noses of the board.
Feeble Grind: Nothing feeble about it...The back truck grinds the edge while the front truck hangs over the top or on the far side if it is a rail.
Drop In: Dropping onto your board from the top of a ramp.
Hang Ten: Stand on the nose of your board and surf it with all ten of your toes over the edge. The longer you go the cooler it is.
Mastered the above skills? Cool, well there are still plenty more to learn. Oh and there is the little issue of getting a sponsor, but don't worry, we have you covered. Check out our blog post on how to get sponsored!