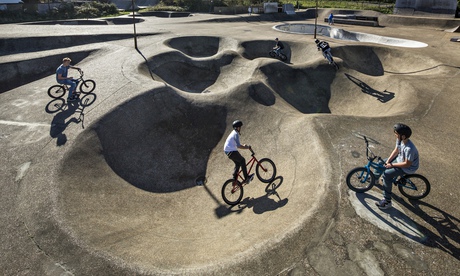 The 70's skate park in Hornchurch is awarded listed status by English Heritage. Making it the only skate park in the UK and one of only two in the world to be protected.
Hot on the heels of the recent Southbank victory, the rom skatepark is being recognised as a piece of British heritage and importantly as a corner stone of early youth skate culture. Very few parks of the this era exist and so it was incumbent on minister Ed Vaizey to recommend to the Department for Culture, Media and Sport to declare the preservation of the Rom park for future generations.
The park was built by Adrian Rolt and G-Force in 1978 and resembles Californian skateparks of the time due to its contours and sweeping curves. As a result of the listing, it now shares discussion with the Bro Bowl in Tampa, Florida because in October 2013 it was the first park in the world to be protected as it was added to USA's National Register of Historic Places.
Roger Bowdler of English Heritage said: "The Rom is the finest example in England to this aspect of youth culture … It gives the whole idea of heritage an extra twist."
The Rom occupies 8,000 square feet and was among a roster of parks built in the 1970's as the skateboarding craze hit the British shores. Some 35 odd years later it probably isn't a craze! But craze or not, when you have the likes of Lance Armstrong blessing the place - who cares!
But Bowdler, goes on to say ''Skateboarding is more than a sport: it has become a world-wide cult...."
Whether these suits are jumping on the badwagon or not, leaves to be seen. But what cannot be denied, is that this is rocket fuel for the shredders up and down the country to keep on keeping on.