Skating is among the common ways to to remain Fit & Healthy while travelling to School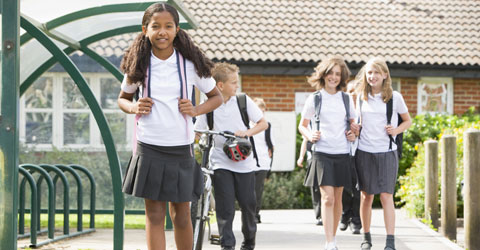 Scottish Children are leading an active lifestyle and lead the way when travelling to school.
There is a new survey has found that school children in Scotland opt for alternative ways to travel, including walking and skating for their daily commute.
The Sustrans's Hands Up Scotland Survey involved more than 500,000 children from two thousand schools and 590 nurseries took part in the largest number of schools ever to participate.
The survey recorded that half of pupils' surveyed travel actively to school, with three quarters travelling actively or by sustainable transport (park & stride or bus).
Some 43% of pupils normally walk to school, while 3.5% cycle and 3% use a scooter or skate, with a further 8% commuting via park and stride, and 18% using the bus.
Pupils who are driven to school account for 22%.
National director of Sustrans Scotland, John Lauder, said: "It's great to see half of our children choosing to travel to school actively. Encouraging active travel from a young age means Scotland's children are more likely to develop good habits that will be continued later in life.
"This is good news as the evidence shows that increased physical activity can help us lead healthier – and happier – lives.
"Over half a million children were surveyed and this year the highest ever number of schools took part in the Hands Up Scotland Survey, helping build a more accurate picture of how Scotland's children are choosing to travel to and from school."